BAVARIA C65 – The largest yacht ever built by the shipyard
The BAVARIA C65 is the new flagship of the BAVARIA YACHTS fleet of sailing yachts and, following the successful presentation of the yacht this spring, is the next logical step in the expansion of the BAVARIA C-Line.
With the BAVARIA C65, BAVARIA YACHTS brings fresh impetus to the booming market segment of sailing yachts between 55 and 75 feet. The BAVARIA C65 impresses both on and below deck thanks to its elegant and modern design. BAVARIA YACHTS offers a high level of customisation with numerous different layout options available below deck for the owner to choose from.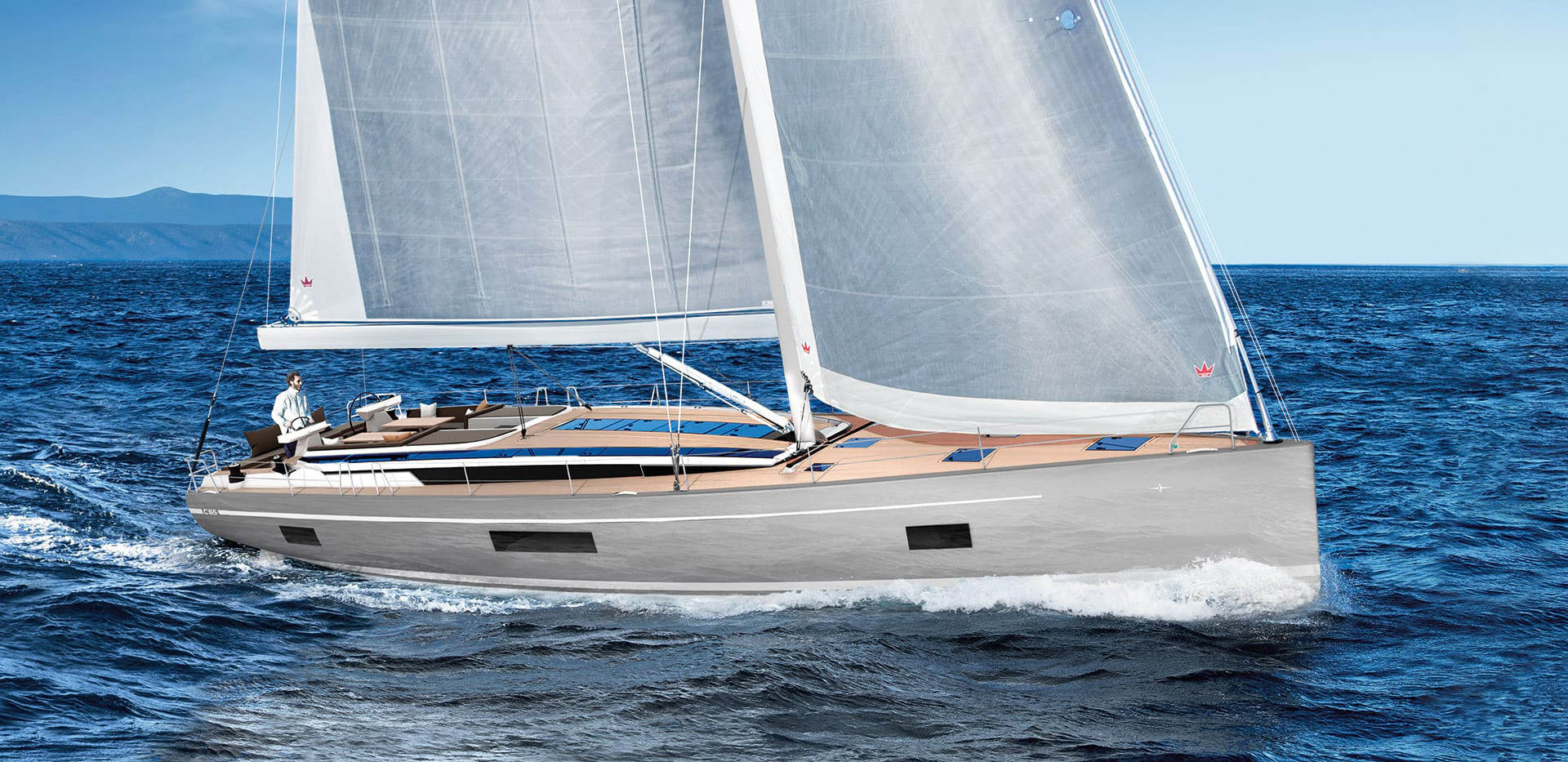 It is the largest yacht ever built by BAVARIA YACHTS. Production of the new yacht has already begun. The first sea trials are planned for the autumn.
The BAVARIA C65 is a masterpiece in design, engineering and technology. She was designed for sailors who place high expectations on their yacht. Her fast and reliable sailing performance is impressive. Even on long trips, the BAVARIA C65 can be sailed with very small crews or even single-handedly. It is classed as a fast cruiser and is also the perfect yacht for blue water sailing. From Cannes to Nice, or from Hamburg to the Caribbean, the BAVARIA C65 opens up every sea to its owners.
The clear line of its hull, its flat wide deck and its sporty rigging define the design of the BAVARIA C65. The large windows in the hull fit elegantly into the line of the hull lending even more dynamism to its length. The dynamic lines of the C65 support the flat design with its narrow strip of windows running from the mast to the cockpit support. The large XXL bathing platform in the stern plays host to the dinghy garage and provides the ideal location for bathing, preparing for a thrilling dive, or enjoying some sunbathing. There is easily enough room in the dinghy garage for a jet tender and other equipment.
A glance at the technical specifications for the C65 immediately reveals the perfect balance between elegant design, a generous amount of space, a high level of reliability at sea, and fast sailing capabilities. At 19.45 metres in length and with a breadth of 5.40 metres the C65 has a very streamlined appearance. But below deck, it's quite a different story. Whether in the 3-cabin or 4-cabin version, with the skipper cabin in the forecastle, the BAVARIA C65 is unbelievably luxurious when it comes to space.
BAVARIA YACHTS' vision is to build the best yachts in their class. The BAVARIA C65 was developed with exactly this vision in mind. The designers, engineers and boat builders challenged this vision again and again at each development stage until they found the best solutions.