When it comes to selecting a yacht for charter, numerous factors come into play. The dilemma of choice between monohulls and catamarans often arises. A perfect yacht should offer a seamless blend of comfort, space, and versatility, all while providing an unforgettable sailing experience. Standing distinctively at the crossroads of comfort, capacity, and functionality is the Jeanneau Sun Loft 47. This monohull innovation outshines many other models in its category.
Capacity and comfort
Compared to other yachts in its class, the Sun Loft 47 significantly ups the ante in terms of capacity. While many monohulls typically offer three to five cabins, the Sun Loft 47 comfortably houses up to 12 passengers across six cabins. This is a capacity often found in larger catamarans. This Jeanneau model has been cleverly designed to maximize both sleeping capacity and common spaces. This unique aspect makes it perfect for large groups of friends or families who want to experience the joys of a sailing vacation together.
Designed for socialization
Its design revolves around shared living areas, unlike traditional yachts that prioritize private spaces. The vast and open deck, spacious dining area, and impressive galley serve as social hubs where passengers can interact, dine, and enjoy the journey together. This innovative design promotes a friendly, communal vibe that is often lacking in more traditional yacht charters.
Superior sailing performance
The Jeanneau Sun Loft 47 does not compromise on performance. It is agile, easy to handle and offers a smooth sailing experience, making it suitable for both seasoned sailors and novices. The yacht's stability ensures safety in various weather conditions, making it a reliable choice for chartering.
Versatility
This sailboat is not only an excellent choice for daytime sailing adventures but also for overnight trips. Each of the six cabins is designed to provide a comfortable sleeping space, while the multiple bathrooms ensure that no one is left waiting. The spacious galley allows for onboard meal preparation, adding to the convenience factor.
Cost effectiveness
It also brings together the best of both worlds, the capacity of larger catamarans and the cost-effectiveness of monohulls. Instead of chartering multiple yachts or a larger, more expensive catamaran, large groups can enjoy a shared, economical experience on such a monohull without compromising comfort or space.
Docking and anchoring
The Sun Loft 47, in all its nautical elegance, manifests a distinctive edge over its larger catamaran counterparts primarily due to its compact size and ingeniously crafted single-hull design. The sheer brilliance of its architecture lends itself exceptionally well to navigational ease, allowing the yacht to smoothly glide into docking and anchoring spots with an effortless finesse, even in the most confined spaces. This singular characteristic opens a world of extraordinary possibilities, granting its captain the freedom to be selective in choosing both secluded, picturesque anchorages and bustling, amenity-rich marinas alike. This deft combination of size and design not only invites exploration but also subtly redefines the very concept of yachting, seamlessly marrying convenience with limitless adventure.
Currently available to charter in 4 countries: Greece, France, Italy, Croatia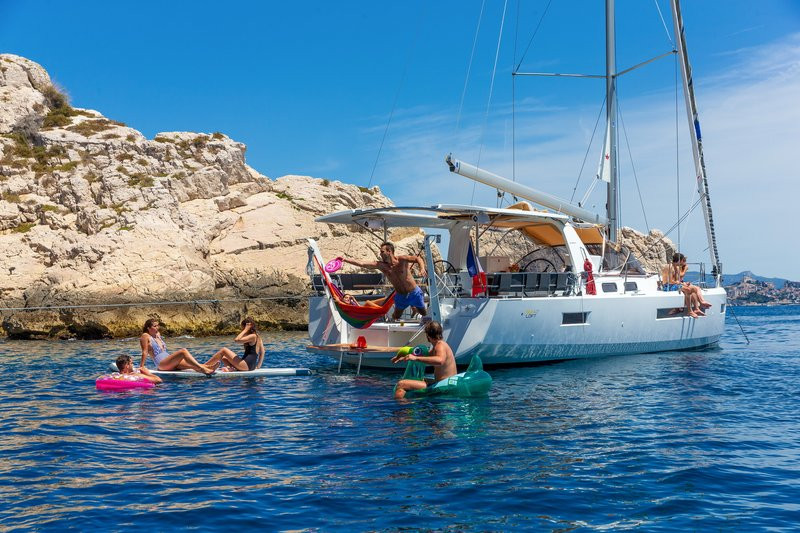 The Jeanneau Sun Loft 47 offers an innovative approach to yacht chartering that challenges traditional norms.